Spinal Asymmetry and Scoliosis Essentials-1
for Pilates Method Movement Educators (PMME)
8 – 10 May 2020
RESCHEDULED DUE TO COVID-19 OUTBREAK CHALLENGES. PLEASE REGISTER YOUR INTEREST TO BE NOTIFIED OF THE NEW SCHEDULE.
2.5 days (16 CE hours, PMA® pending)
This course is appropriate for comprehensively certified Pilates instructors, physiotherapists, occupational therapists, nurses, athletic trainers and fitness professionals.
COURSE DESCRIPTION
Spinal Asymmetry as a medical diagnosis affects about 6 million people in the US. Beyond that figure, many go undiagnosed until injury or pregnancy occurs. Aging spinal asymmetry progresses a little over a degree per year. Cases of low back pain and female pelvic pain are a popular cause of concern. 
Do you need to know more about spinal asymmetry and scoliosis? Physical therapy plays an important role in scoliosis medical diagnosis and pain management. However that role is limited in its ability to help a client attain larger functional and movement goals. The PMME fills a gap and can be a part of the team for those who need time for movement education to address larger functional and quality of life issues. Clients with asymmetries have directional biases, fascial restrictions, and compensatory patterns due to positioning in utero, handedness, direction preference, eye dominance and life experiences.
Essentials-1 covers the patho-mechanics, how the biomechanics of abnormal anatomy differs from expected anatomy, as well as the pathophysiology of fascial compensations and confounding bone issues involving curve classification, spinal degeneration and osteoporosis. Create a client profile through assessments determining structural versus functional asymmetry. Learn to apply a framework of the 3 –E strategy of ergonomics, exercise and emotion tailoring your work for youth or adults. Learn to use the Activ-wedge® in the nine neurodevelopmental positions on the mat and apparatus. We will also explore movements to unlock laterality and optimize musculoskeletal and neuromuscular balance. Learn strategies to immediately enhance your current practice and intrigue your clients.  Become a part of your client's care team. Upon completion of the course, participants have the opportunity to test out and join the evidence-based licensure program for an additional fee.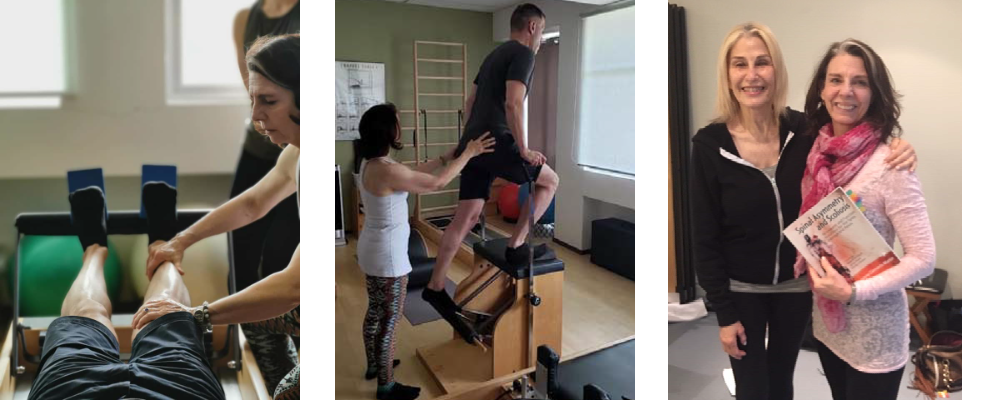 COURSE OBJECTIVES
In this course, the participant will:
1) Better understand how to explain the meaning of spinal asymmetry and scoliosis, its causes, development and progression from youth through the stages of adulthood, including psychosocial impact upon youth, fertility, and adult phases of life.
2) Better understand the role of the Pilates instructor in a client's care team, whether medical or non-medical, differentiating the PMME role of influence in the management of a lifelong condition.
3) Better understand the altered anatomy, the altered biomechanics and characteristics of the physiology associated with spinal and functional asymmetry.
4) Learn to apply assessments to identify the individual 's scoliosis attributes (Scolio-Cues) to be used throughout the exercises and identify functional preferences adding to the spinal asymmetry.
5) Learn to apply the 3 E strategy as a framework involving somatic, corrective and conditioning concepts and exercises within the Pilates environment.
6) Learn the use of the Activ-Wedge® and Scolio-Cues to make symmetrical exercises asymmetrical, and asymmetrical exercises more effective.
7) Learn contraindications and precautions in working with this special population in the Pilates environment.
8) Learn to apply an evidence-based Pilates environment framework for a safe exercise program used as an adjunct to medical care.
HOUR BY HOUR OUTLINE
DAY 1
Hour 1-2: Lecture: Define spinal asymmetry, scoliosis, its causes, youth growth stages, the physical changes (patho-physiology and patho-mechanics) and psychosocial effects involved with spinal asymmetry
Hour 3-4: Lecture: the role of the instructor, influence within a medical team, working without a medical team, scope of practice, red flags for participation, goals for youth and adults, how to measure progress
DAY 2
Hour 1: Movement Exploration Mat/Lab: Spinal exploration: working in pairs to learn superficial observation skills of spine formations (classifications of gravitational curves and lateral curves) and function (standing rolls; X-rolls)
Hour 2 – 3: Lab – Postural and Functional Assessments: break into pairs for scoliosis specific physical observations and functional tests: (12+ observations, 5 functional tests)
Hour 4: Lab – Core Correctives from the functional test, establishment of Scolio-Cues
Hour 5: Lab – Breaking up the Pattern: Baby Arc Fascial Influence
Hour 6: Review Assessments/ Compensatory Patterns / Fascial Influence / Ethical Considerations
Questions and answers, review and summation of day.
DAY 3
All lab with lecture /demonstration as necessary
Hour 1 – 2.5: Youth Programing
Hour 2.5 – 4: Adult Programing
Hour 5: Case Studies
Hour 6: Summation, review, questions and answers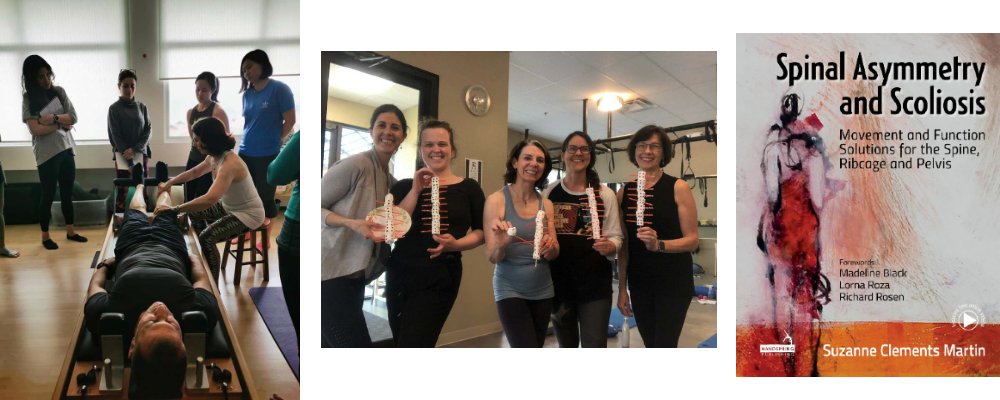 Course Details
---
Date:
8 – 10 May 2020
Friday – sunday
RESCHEDULED DUE TO COVID-19 CHALLENGES. PLEASE REGISTER YOUR INTEREST TO BE NOTIFIED OF THE NEW SCHEDULE.
Hours:
Fri, 8 May: 2pm – 6pm
Sat, 9 May: 9am – 6pm
SUN, 10 May: 9am – 6pm
Fees:
S$960 Early REgistration 
S$1,050 After 15 Mar 2020
Fees are due upon registration.
Venue:
York Hotel Singapore
21 Mount Elizabeth, Singapore 228516
Educator:
Dr. Suzanne Martin, PR, DPT
Additional info:
FOR female participants, please wear a sports bra for torso viewing
Contact:
Diego CHia or Lecia ang
ABOUT THE EDUCATOR, DR SUZANNE MARTIN
Dr. Suzanne Martin, PT, DPT is a physical therapist and Pilates expert with a private practice in the SF Bay Area, Total Body Development. She has authored four titles on fitness for DK Publishing, a division of Penguin Group, and has a new book coming out in early 2018 through Handspring Press.  She has written regular columns on health topics for Dance Magazine, Pilates Style and Dance Studio Life.
Suzanne presents workshops and master classes worldwide and in the US, through Balanced Body University, the PMA and other providers, as well as through her own company, Pilates Therapeutics LLC. Pilates Therapeutics is an education company, formed in 2002 to produce and distribute educational videos, workshops and continuing education courses, designed to present the Pilates Method as a rehabilitation modality for a variety of health and fitness conditions.
Pilates Therapeutics LLC is an approved Continuing Education provider for the California Board of Registered Nursing, California State Physical Therapy Association (CAPTA) and the Pilates Method Alliance (PMA).