THE HOST OF ANATOMY TRAINS  COURSES IN SINGAPORE SINCE 2016
Anatomy Trains Structural Integration
Education for Physiotherapists & Manual Therapists
This is Anatomy Train's new core certification program: Anatomy Trains Structural Integration (ATSI – formerly known as KMI). The ATSI program is based on my development of Ida Rolf's pioneering work, progressed for the electronic age.
This course has been taught around the world and received support from a wide variety of health and movement professionals.
This is a course suitable for healthcare and manual technique professionals such as physiotherapists, osteopaths and massage therapists. It is also relevant to movement professionals who are interested in developing manual techniques.
Anatomy Trains Structural Integration Workshops in Singapore
Anatomy Trains® in Structure & Function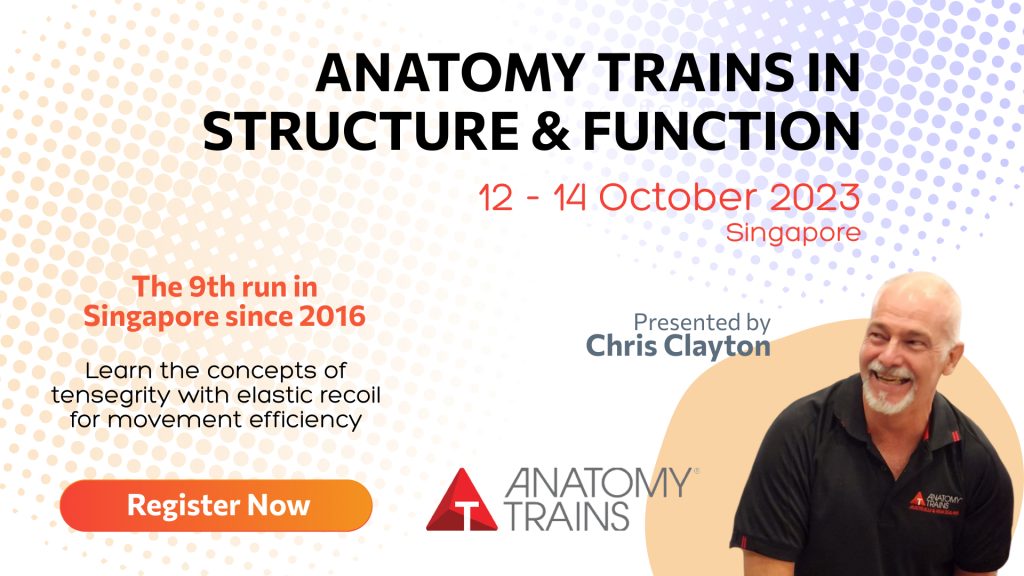 12 – 14 October 2023
COURSE FULL! Register your interest for the next run in 2024.
After another successful run in March 2023, the popular Anatomy Trains in Structure & Function will be back again in October 2023 for the 9th time in Singapore. Register your interest for the next run in 2024.
This is the first workshop to introduce the concepts of Anatomy Trains and is the pre-requisite for the subsequent Structural Essentials modules.
Structural Essentials: Fans of the Hips

15 – 17 October 2023
A FEW SEATS LEFT. Register now to avoid disappointment!
The second module of Structural Essentials series after Arches and Legs. This module introduces the concept & anatomy of three fan-like soft tissue arrangements and using these "fans" to balance pelvic tilts and torsions.
This course sheds light on the pelvis – the keystone of human architecture – by organizing the 20 or so muscles of the pelvis into three fans.
More Anatomy Trains Structural Integration modules coming up in 2023
Watch this space for more information
We are currently working with Anatomy Trains head office to confirm the full schedule for future Anatomy Trains Structure Integration courses. If you are interested to attend any Anatomy Trains courses, please register your interest and you will notified when the schedule becomes available.
AGING WITH SPINAL ASYMMETRY
IN THE FASCIA-FOCUSED PILATES ENVIRONMENT

A BRAND NEW PILATES FOR SCOLIOSIS COURSE
What is the Aging with Spinal Asymmetry course about?
Aging with Spinal Asymmetry, or any asymmetry, requires intentional movement education for effectiveness.
This evidence-informed course addresses the differing approaches necessary to successfully focus on the often overlooked and unknown impact on the young adult, the connective tissue looseness of the pre-natal and post-partum phase, the delicate play between spine stability and mobility for each phase, and neurologic/fascial implications for balance and gait promotion, especially for the older adult.
Learn about the life phases, the implications for skeletal, fascial tissue and neurologic changes, and how to recognize and adapt to the shifting nature of asymmetry in each phase of adulthood.
Get a better understanding on how to apply the principles of form and fascial force closure for structural integrity.