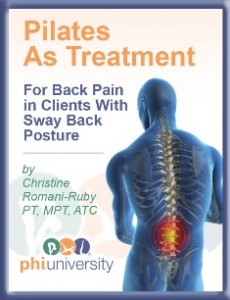 Workshop 1: Pilates For Client with Sway Back Posture
---
Course description

Sway Back posture is a common factor in clients with Back Pain and other chronic syndromes.  In this course, participants will learn about the characteristics and problems in sway back posture and review concepts surrounding the causes and effects of this posture.  Then go to the lab with Chrissy to watch the postural evaluation and Pilates based exercise programme for sway back posture and chronic low back pain.  Exercises shown are on the Mat, Reformer, Trapeze Table, and Ladder Barrel.
Course Objectives
Participants will identify and describe the Sway Back Posture.
Participants will differentiate the Sway Back Posture from Lower Crossed Syndrome.
Participants will identify weaknesses and length deficits of a client with the Sway Back Posture.
Participants will apply exercises using the Reformer, Trap Table, Mat, and Ladder Barrel to improve Sway Back Posture and reduce low back pain.
Participants will identify the components of Sway Back Posture that lead to low back pain.
Who Should Attend
This workshop is for Pilates instructors, physiotherapists, or physiotherapy assistants, or movement practitioners.
Date
---
30 September 2016
FEES: SDG 650

VENUE:
Core Fitness Physiotherapy & Pilates Centre
583 Orchard Road, Forum #05-04, S238884