ANATOMY TRAINS IN MOTION & SLINGS MYOFASCIAL TRAINING
Description:
Slings Myofascial Training is a continuous education system that has been designed in a modular fashion, with a predetermined education pathway. Each module is a self-contained course; when put together they form the complete Slings Myofascial Training education.
Each education module is comprised of a theoretical and practical component. The emphasis varies depending on the module. While the focus in Anatomy Trains in Motion and Slings Essentials lies on the more theoretical principles, practical application stands at the forefront in the Slings in Motion modules.
Regardless of the emphasis applied, your active participation in each and every course is required.
To receive a Certificate of Attainment you are required to attend a minimum of 80% of each module.
Pre-requisite
Prerequisite to participating in the Slings education is a certification in movement or a related field of health and bodywork
art of motion Pilates Matwork Certification, or
Equivalent movement certification comprising at least 100 contact hours with a minimum of 28 hours anatomy (e.g. Pilates, Yoga, Personal Training, etc.), or
Certification in bodywork, therapy or health (e.g. structural integration, physiotherapy, exercise physiology, etc.)
And
It is important to enter the Slings training with some teaching or therapy experience and a set of exercises complementing the Slings movement repertoire.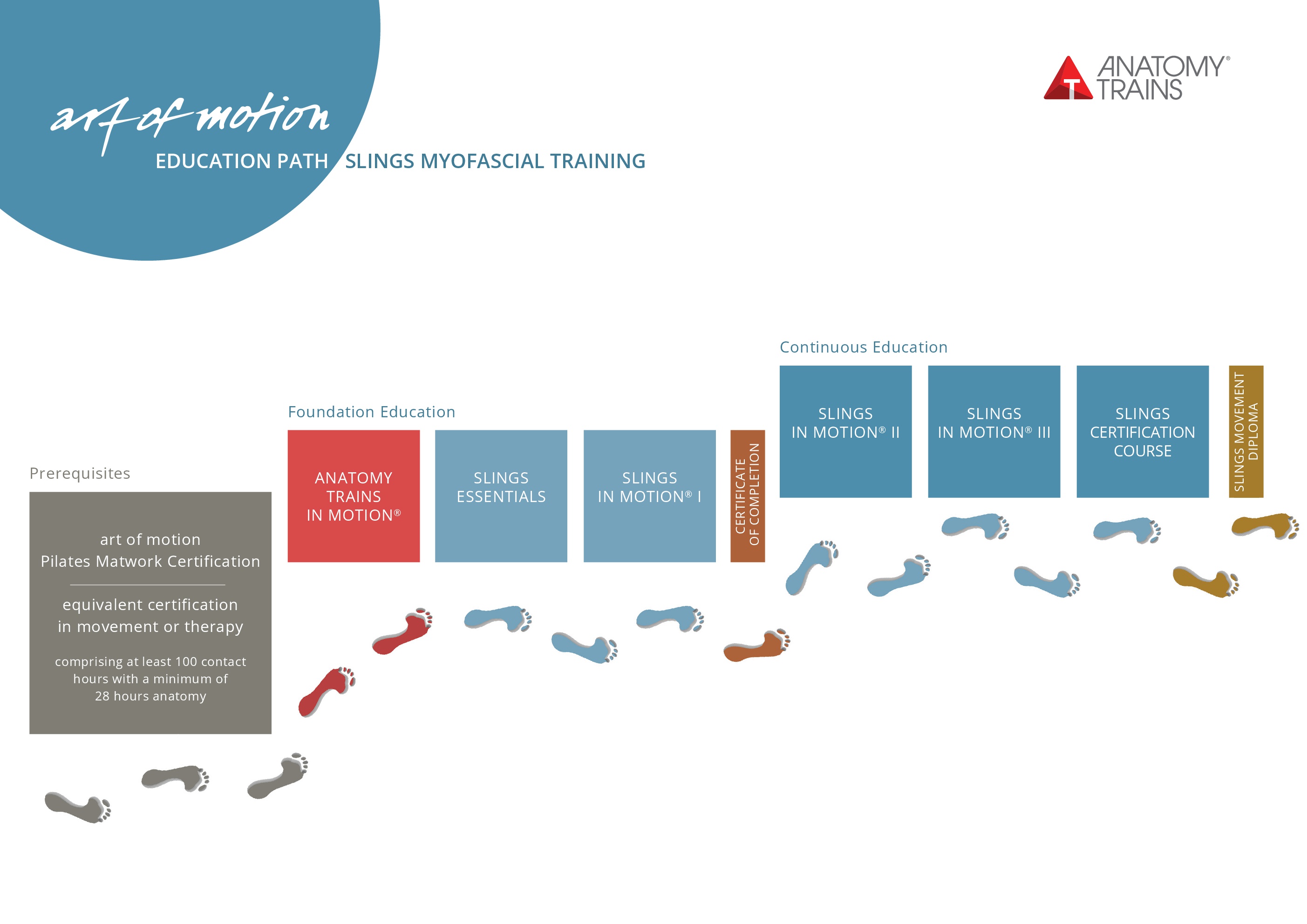 Slings Education Pathway
The education pathway is very simple because we have set it out for you.
Module 1: Anatomy Trains in Motion
Module 2: Slings Essentials
Module 3: Slings in Motion I
Module 4: Slings in Motion II
Module 5: Slings in Motion III
Module 6: Slings Certification Course
Milestones
Slings Foundation Education
After your successful completion of the first three modules, you will receive your "Slings Certification of Completion".
Slings Diploma training
If you attend modules 4 and 5 as well as successfully complete the Slings certification course, you will receive your "Slings Movement Diploma".
Why is a modular education pathway set out?
Because
You are flexible.
You can attend one or two modules to assure yourself of the effectiveness of Slings.
You decide whether you want to complete the training course within six months or two years.
You can repeat individual modules.
You can distribute the course costs over several months or years.
You choose dates that suit you.
Anatomy Trains® in Motion

2 – 4 March 2019
Anatomy Trains in Motion is an in-depth 3-day course for movement and bodywork professionals who love integral anatomy and body-minded exercise applications that relate to real-life in all of its dimensions. […]
Slings in Motion II

Currently not scheduled
Slings in Motion II is an uplifting and energizing course that guarantees functional movement fun. It focuses on the "perceptive, gently winding and unwinding" Lateral Line and the "energetic, gyrating" Spiral Line.
Slings Essentials

12 – 13 June 2019
Slings Essentials is a rich course for movement and bodywork professionals who want to understand fascia in motion comprehensively. […]
Slings in Motion III

Currently not scheduled
Slings in Motion III is the movement gem that rounds off the first triad of Slings repertoire courses. Its stars are the "authentic and wholehearted" Deep Front Line (aka myofascial core) and the "expressive, far-reaching" Arm Lines.
Slings in Motion® I

14 – 16 June 2019
The 3 days are filled with a broad spectrum of diverse exercises and movement sequences. The focus is on 2 highly influential myofascial meridians of the Anatomy Trains body map […]
Slings Certification Course

Currently not scheduled
The Slings certification course is an assessment of your skills and knowledge as well as an opportunity to refine them, clarify questions and consolidate your understanding. The two days are a dynamic mix of teaching, moving and quizzing, essay presentations, reflections and knowledge refinement through short lectures.