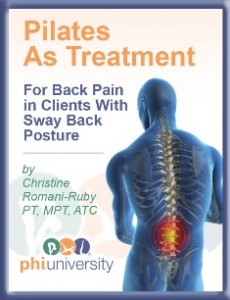 Workshop 3: YUR KNEE™ Hip Mobility and Stability for Healthy Knees
---
Course description

Patellofemoral pain is one of the most common lower extremity disorders in the general population, but the source and treatment of this pain is still controversial.  This workshop will open your eyes to what has been learned about the etiology and treatment of this common knee pain over the last 20 years and will present the application of Pilates guided through these new concepts.  We will be using the rotator disc and Pilates Loops for exercises as well as Pilates equipment. Leave with everything you need to excel in the management of patellofemoral conditions.
Course Objectives
Participants will describe three concepts of etiology most recognized in evidence- based research.
Participants will recognize past and present practices for the predicted cause of patellofemoral pain.
Participants will apply Pilates based exercises to address proximal dysfunction using rotator discs and Pilates loops.
Who Should Attend
This workshop is for Pilates instructors, physiotherapists, or physiotherapy assistants, or movement practitioners.
Date
---
2 October 2016 (Sunday)
FEES: SDG 650

VENUE:
Core Fitness Physiotherapy & Pilates Centre
583 Orchard Road, Forum #05-04, S238884